About Solid Rock
Solid Rock Ministries seeks to aid people who are facing financial difficulties or who are experiencing physical limitations by providing necessary, standard of living repairs to keep their homes safe, healthy, and secure.
This is how we know what love is: Jesus Christ laid down his life for us. And we ought to lay down our lives for our brothers and sisters. If anyone has material possessions and sees a brother or sister in need but has no pity on them, how can the love of God be in that person? Dear children, let us not love with words or speech but with actions and in truth. 
1 John 3:16-18
2006 to 2010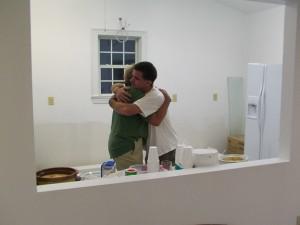 Solid Rock Ministries is a byproduct of Hurricane Katrina that devastated Louisiana in 2006. Derek Norman was a licensed contractor with his own business at the time. He went down to help like so many of us did. After he returned home he felt called to do more. He wanted to move down to Louisiana but his family was not very excited with the idea. Then it struck him; "Did I know the need was here locally? Yeah. Did I overlook it? Definitely! It was laid on his heart …. To start a local ministry to help low-income people maintain and repair their homes. Over the next four years, he did all the hard work of establishing Solid Rock Ministries. You would not believe the mounds of paperwork necessary to start up a 501(c) 3. And he got 30 to 70 jobs done each year.
Then in 2009 God called him again; this time to go to seminary and become a pastor. The board lamented "What is going to become of Solid Rock?"
2010 to 2014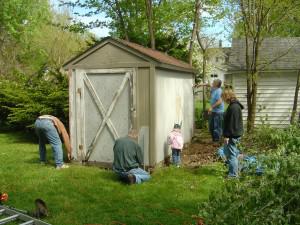 Suddenly out of the blue, two new volunteers showed up. Randy Hempel became the new director and Dirk Koorstra became the volunteer coordinator. Randy is a gifted project manager/organizer while Dirk coordinated with other volunteers, churches and agencies to take care of the needs of the clients. SRM continued to grow. In 2013, we contributed over 1000 volunteer hours to the community and in 2014 we contributed over 2000 hours. With all this work we did not have the time (or the desire) to do the necessary fundraising. Randy had to move on to a regular paying job.
In 2014, Derek became an ordained pastor.
2015 to present
We continue as a group of 8 regular volunteers and Dirk has assumed the director responsibilities. We are convinced God directs this ministry so we continue day by day to take care of our brothers and sisters with financial challenges and substandard housing. SRM continues to grow each year with additional volunteers and service hours, currently exceeding 2000 per year.  Our mission of helping the elderly and low income could not be obtained without the support from area churches, businesses, and individuals. We thank God for giving us this opportunity to serve Him in this way.